12' Valance
Starting at $3,200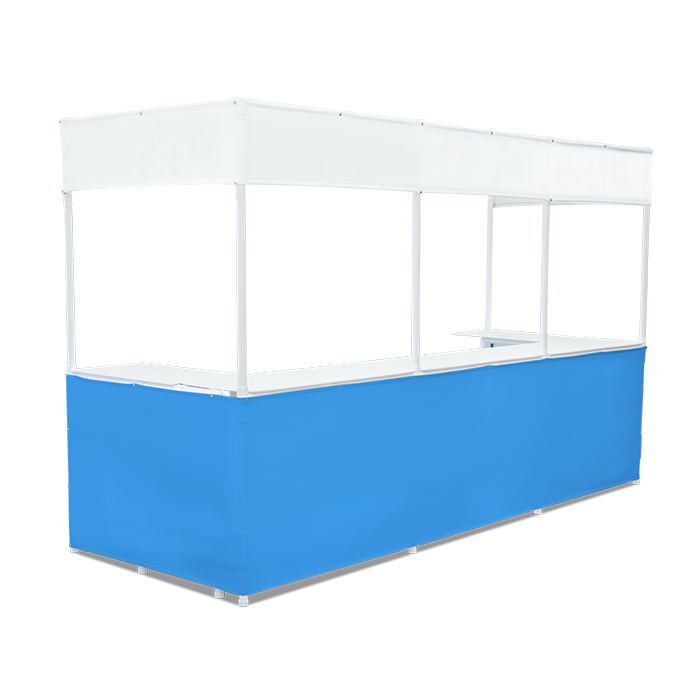 12' Valance
Starting at $3,200
3-4 Staff Capacity
The 12 Foot Rectangular works excellent for indoor applications where a large booth is required. Many have been utilized for food service and merchandise sales. It can accommodate 3 to 4 people and has a 38 inch counter height and sets up in about 15 minutes. Optional casters allow the booth to be easily moved for storage or cleaning. The Valance model includes an upper frame assembly with a valance wrapping around three sides.
Details
Pricing
12' Valance with 3 counters
12' Valance with 5 counters
Digitally Printed Vinyl
Top (upper vinyl wrap)
$515
Skirt (lower vinyl wrap)
$1,070
Accessories
Under Counter (U/C) Shelf (each)
$110
Adjustable Cash Box Shelf
$84
Caster Set • 3 Counters
$155
Caster Set • 5 Counters
$200
Side Under Counter Shelf
$77
Stakes & Tie Downs
$74
Sandbags
$74
Dimensions
Hexagon | Rectangle With One Opening
Width
Depth
Height
Counter Height
38"
Top Counters (each)
19" x 47.5"
U/C Shelf (optional)
19" x 32"
Weight
3 counter package
175 lbs
5 counter package
215 lbs