7' Gazebo
Starting at $3,580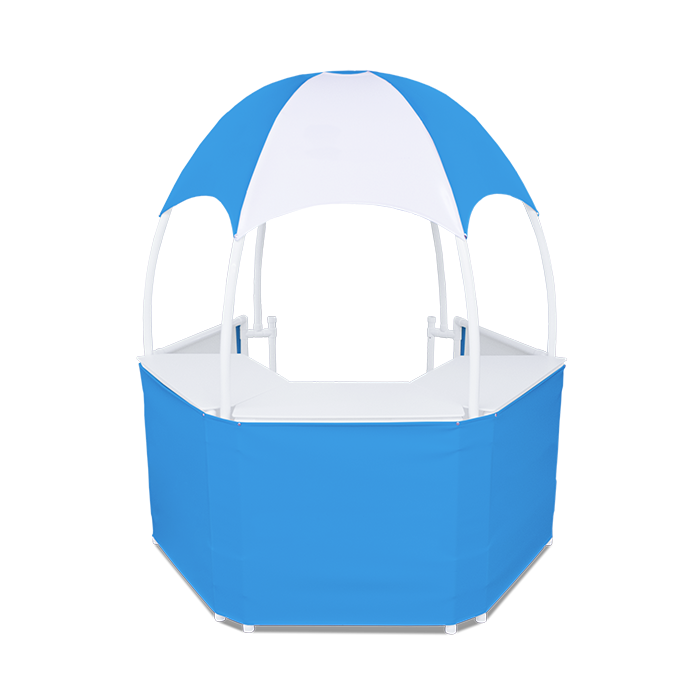 7' Gazebo
Starting at $3,580
1-2 Staff Capacity
The 7' Gazebo is our smallest and most portable Gazebo model. At 7 feet wide, the small proportions are great for indoor spaces, but the classic Great Gazebo shape gives it a big presence. Built with a durable PVC frame, this model is also great for outdoor use especially when combined with the optional under counter shelves for off-the-ground storage. For extra portability, the 7' Gazebo is offered with an optional pinning frame that allows for complete disassembly. Once broken down, the entire Gazebo can be transported in carrying cases and fit into most car trunks.
Details
Pricing
7' Gazebo with 3 counters
7' Gazebo with 5 counters
Digitally Printed Vinyl
Top (upper vinyl wrap)
$770
Skirt (lower vinyl wrap)
$915
Door Skirt
$275
Accessories
Under Counter (U/C) Shelf (each)
$60
Adjustable Cash Box Shelf
$84
Caster Set • 3 Counters
$200
Caster Set • 5 Counters
$245
Rear Door & Skirt
$125
Stakes & Tie Downs
$74
Sandbags
$74
Optional Pinned Frame Upgrade
$300
Dimensions
Hexagon | Rectangle With One Opening
Width
Height
Counter Height
38"
Top Counters (each)
19" x 36"
U/C Shelf (optional)
15" x 24"
Weight
3 counter package
141 lbs
5 counter package
168 lbs